Hungarian rebels against the "Microsoft Tax"
Written by Garfield Lucas
Seems that Micro$haft's corporate enslavement permeates far beyond the English-speaking world. A long and complex legal battle is currently raging in the former Eastern Bloc state of Hungary. APEH (the Hungarian Tax Office) has decided that all Hungarian businesses now have to submit their tax returns on-line.
This would not be a problem in itself. However in an act of inexplicable ignorance, APEH has assumed that all computer users use Microsoft Windows. To complete their tax returns, Hungarian business people have to download two Windows executable programs, run them on their Windows based PC's and then submit these back to APEH, duly completed, using Windoze of course!
APEH's tax return files simply do not work on any other platform, not even using WINE or CrossoverLinux. So if you are a Macintosh or Linux user, then tough luck mate! This has infuriated Hungarian businessman and software developer, Charles Barcza. He develops and runs blackPanther, one of the biggest home-grown, Hungarian-language Linux distribution.
Despite smiling for our photo, Charles is not a happy Hungarian at all because APEH's decision renders his blackPanther OS and all other non-Microsoft operating systems useless for submission of tax returns in Hungary.
Micro-$hafted
Hungarian business people have to download two Windows executable programs from APEH, run them on their Windows based PC's and then submit these back to APEH, duly completed, in Microsoft Windoze of course. APEH's tax return files simply do not work on any other platform, not even using WINE or CrossoverLinux. So if you are a Macintosh or Linux user, then tough luck mate! You must buy Windows!
No one likes paying tax. But being forced to pay an additional "Microsoft tax" just in order to pay one's statutory tax seems fundamentally unjust. Moreover, what sensible business person would install an OS that cannot be used to complete one's compulsory tax returns? It is one of the worst examples of government-sponsored Microsoft-lockin one can imagine. However, Charles is not a man who gives up without a fight. He has hired the services of Dr. Csilla Radovics, one of Hungary's finest lawyers to advocate his case. If he wins, then it could have serious repercussions throughout the EU, including in the UK.
The cat's revenge
I caught up with Charles back in summer 2007 in Pécs, a pleasant Roman town about the size of Southampton, 200km south of the Hungarian capital, Budapest. In an interview, painstakingly translated by my Hungarian speaking partner, Charles explained that his blackPanther operating system has an estimated 120,000 downloads. Based heavily on Mandriva Linux, blackPanther has been written to suit the needs of the Hungarian home market.
Not to be confused with a version of Apple's OSX operating system, Charles chose the name Panther simply because he likes them. Of course I did wonder if he would like panthers as much if he ever came face to face with one! And Charles was quick to explain that blackPanther was also available in other languages, including English. The blackPanther operating system is now supplied as standard on a range of tough and reliable laptop PC's manufactured by Charles's company.
He told me that having suffered forty years of communism, Hungary is becoming a vibrant trading nation once again. In fact, the right to trade was incorporated in the Hungarian Constitution after the revolution in 1989. APEH forcing business people to use Microsoft Windows was severely restricting his ability to trade and is therefore unconstitutional.
Moreover, there was a very fundamental human rights issue here too. Why should a Hungarian national and EU citizen be forced to buy proprietary American software in order to communicate with his Government? There are many, many ways that a government can collect data on-line without forcing its citizens to buy expensive and unreliable foreign software.
The fight continues

Several months have passed since our meeting. Charles has submitted a petition to the Constitutional Court and to the Ombudsman. He approached the Ombudsman because of a particularly bizarre data protection issue. Seems that if you do not wish to swell Microsoft's coffers any further, then APEH's answer is that business people should go to their local "Telehaz" - a sort of free, community-based internet café.
Laudable as the Telehaz movement is, who in their right minds is going to take all their business records to an internet café? The notion is utterly ridiculous. Not merely is it very inconvenient but it raises some serious privacy and confidentiality issues too.
The case is currently going through the Hungarian Courts.
---
Last Updated on Friday, 11 January 2008 00:29
Read more...
Could Vista woes lead us to better things?
Written by Garfield Lucas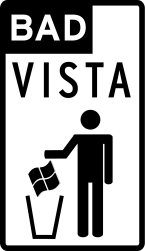 We bought a couple of IBM Lenovo 3000C200 laptop PCs in 2007 May. These are fairly average 1700MHz laptops purchased from a UK supplier called eBuyer for around 300 quid a throw. These came preloaded with the basic version of Windows Vista. To describe Vista's performance as dismal would be understatement of the year.
Problems included...

Waiting over an hour to get the OS from pre installed state to being actually usable (and I use the word "usable" lightly).
MS outlook 2002 crashed on start - seems the pre-installed Office 2007 conflicted with it.
Painfully slow start up, over five minutes
Painfully slow to do anything at all.
Stupid user interface with lots of unnecessary clutter that needed switching off in order to get any speed from the machine.
So I took the brave step of reformatting the drive on my brand new computer and installing Ubuntu Linux instead. Now, I have flirted with Linux on desktop PC's for some time, though not in any serious way. Until recently Linux was not user-friendly enough for desktop use and besides, it lacked decent applications. However I have used Linux much more successfully on web servers for many years. For example, this site runs Debian Linux c/w Apache web server.
But things change very quickly in the IT industry and Linux in particular has come a very long way since windows XP first appeared back in 2001. Besides Vista made me so angry! So I thought it was time to try one of the "new" Linuxes as a Windows replacement on a real, working desktop. I undertook quite a lot of research to try to establish which Linux best suited to day-to-day, desktop use in a harsh business environment. There are many choices but in the end I opted for a Debian-based distribution called Ubuntu. I was looking for both ease of use and ease of installation.

This is what I discovered...
It took less than 15 minutes to install a working Ubuntu, c/w a fully working OpenOffice.
I then decided to replace Micro$oft's ubiquitous but grossly overrated Outlook with the far superior (and completely free) Mozilla Thunderbird. This has never crashed and handles my huge archive of old emails far better than Micro$haft Doubtlook. FYI MS Outlook goes decidedly wibbly as its *.PST file approaches 2GB.
Ubuntu's start up averages less than 1/3 of the time that Vista takes.
Applications load at a speed that I have never experienced with any Windows machine.
I have no problems with virus, spyware, trojans, adware etc on my Linux machines. Remember that on many Windows PC's a considerable slice of your system resources can be taken up running anti-virus, anti-spyware, firewall and other "protective" software.
Ubuntu, and almost all the software for Ubuntu is FREE! No strings, no spies, no adware. In fact, there are none of the "nasties" that one has come to expect with Windows.
Three months and countless installed applications later, these Ubuntu-based machines still deliver the same performance that they did when they were new. Compare that with any version of Windoze, where machines get slower and slower the more applications you install.


I subsequently upgraded from Ubuntu to the (IMHO) much more stylish and functional Kubuntu - featuring the KDE desktop. KDE is one of many free desktop systems available for Ubuntu. Which one you use is purely a matter of personal choice - something else greatly lacking in the Windows arena.

Since 2007 May, we have purchased cheapie 3 Lenovos and have unceremoniuosly dumped Vista on all 3 machines in favour of Kubuntu. In addition we are gradually migrating all our Windows PC's to Kubuntu as well.

The point is that I am fed up with the costly upgrading and constant security patching of Windows operating systems. I am sorry to say that Vista is one seriously-flawed operating system too many for us and I am utterly sick of all the broken promises from Microsoft.

(K)ubuntu has made migrating to Linux really easy for us. So easy that my non-techy girlfriend was able to install a complete Hungarian language version of Ubuntu for her sister in Hungary, including Skype and all the other doodads, whistles & bells in just over half an hour.

There are still issues with drivers for scanners etc, but these are gradually being resolved. Our few "must have" Windows applications, such as ThumbsPlus, Adobe PageMaker and Microsoft Access will all run adequately on Linux by using CrossoverOffice from Codeweavers (costs around 25 quid). In fact MS Access on Linux is actually faster than on Windows! Seriously!

All our other data can be handled perfectly adequately using the fantastic array of free, open source applications available for Linux - such as OpenOffice (opens and saves M$ Word, Excel & Powerpoint files), Gwenview (for managing photos), Amorok (for MP3's) Kaffiene (for playing DVD's and other movie files).

There is also a fantastic array of free, open source educational software that is unrivalled on Windows. The support one gets from the Ubuntu community is far superior to anything you can expect from Micro$oft.

My final comment is that anyone struggling with Vista should seriously consider one of the Ubuntu family of Linuxes instead. My view is that if one has the hassle of learning something new then why not make this intellectual effort really worthwhile?

My remaining niggle is that presumably I must have paid for all these unwanted Vista OEM licences? Clearly Vista is not of merchantable quality. So I wonder how I can get my money back?
Last Updated on Monday, 06 August 2007 23:22
Read more...
<<

Start

<

Prev

1

2 3 4 5 6 7 8 9 10 Next > End >>


Page 1 of 12